Live Ask Me Anything with Eamonn Boyle and Garth Gilmour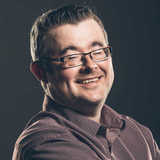 World-renowned masterclass teacher with 15+ years' experience as a developer, architect and team lead
Developer Advocate at JetBrains, delivered over 1,000 training events and author of over 40 training courses
Join us in this Ask Me Anything session (AMA) with Eamonn Boyle and Garth Gilmour on YouTube (Live) and have them answer any burning technical questions you can think of around Kotlin, Java, TypeScript, JavaScript, React, Angular and Spring!
Please note: We encourage you to ask your questions before the event starts. This way, we can make a full use of the hour with our experts, Eamonn Boyle and Garth Gilmour, and make sure that you will get your answers during our Live AMA session. You can submit your questions through the registration form.
About the speakers
Eamonn Boyle
Eamonn Boyle has over 15 years working as a developer, architect and team lead. For the last 2.5 years he's been working as a full-time trainer and coach, authoring and delivering courses on a range of topics to a broad range of delegates. These include paradigms and technologies from core language skills, frameworks to tools and processes.
He has also spoken at a number of events and meetups including .NET Developer Guild, BASH and GDG Dublin and aided in the delivery of workshops at KotlinConf, GOTO Amsterdam and RebelCon.
Eamonn enjoys a good film, loves a good debate on current affairs and practicing his photography skills
Garth Gilmour
Garth Gilmour gave up full time development back in 1999 to teach and mentor full time. Since then he's delivered well over a thousand courses and workshops to all kinds of programmers from all kinds of backgrounds. He started teaching C++ to C coders, then Java to C++ coders, then C# to Java coders and now teaches everything to everybody, but specialises in Kotlin.
Although self-employed for most of this career, he came to roost six years ago as head of learning at Instil. As part of that role he speaks frequently at meetups, presents at conferences and co-organizes the Belfast BASH series of developer events.
When not at the whiteboard he coaches Krav Maga, lifts heavy weights and fights nerf wars with his kids.
View all events
here