Who We Are
GOTO gathers the brightest minds in the software community to help developers tackle projects today, plan for tomorrow and create a better future.
Learn from thought leaders and innovators with top-rated videos released daily, and at our year-round conferences, masterclasses and meetups.
Top Videos
Latest Posts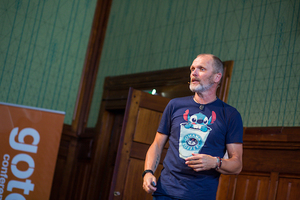 July 21, 2021
Over the years, the way organizations and teams operate in software development has changed quite a bit. In this post we explore Sander Hoogendoorn's talk on how organizations and teams doing software and product development can transition to focus on delivering value using the ever-evolving and self-organizing power of microteams.
#HumanFactor
#RemoteWorking
#agilemanifesto
#agile
#microteams
July 14, 2021
While the command-line might seem like an antiquated means of work from outside, it does have unexpected benefits. Bert Jan Schrijver, CTO at OpenValue, is using the command-line to make his work easier, more productive and even fun. Get a quick overview of where to start and what to use the command-line for.
#utilities
#linux
#command-line
July 8, 2021
Sharing from our experiences is one of the most important ways in which we can help software developers and engineers that are just starting out. We asked some of the well-known and respected names in the industry what are some of the things they wish someone had told them when they were starting out. Dive into this GOTO Unscripted episode to discover the stories of Mary Poppendieck, Mike Amundsen, Allen Holub, Bernd Rücker, Aino Vonge Corry and Uncle Bob Martin.