A Hybrid Intelligence Approach to Developing Generative AI Applications
Updated on October 2, 2023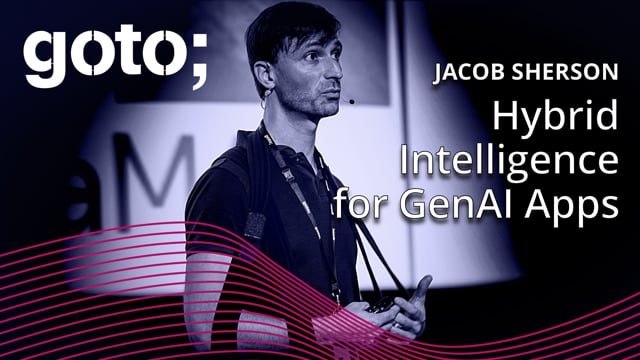 This video is currently available only for GOTO Copenhagen 2023 attendees.
Click to enter password.
In the burgeoning field of generative AI, the future of human creativity and control is a pressing concern. Combined advances in algorithmics and Human-Computer interaction, the field of human-centered AI offers a technical solution to this dilemma, boasting a growing inventory of software and interface design principles aimed at achieving both high levels of automation AND human control. These technical solutions include sophisticated task distribution, human oversight, and continuous learning loops facilitated by approaches such as interactive machine learning. However, this talk argues for a broader, more holistic approach: Hybrid Intelligence.
This framework not only incorporates the algorithmic advances of human-centered AI but also extends them into a comprehensive development and deployment strategy. Hybrid Intelligence aims to clarify the complementary skillsets between humans and AI, develop synergetic interfaces for mutual learning, and investigate organizational barriers and opportunities for creating AI applications with new value streams. This multi-dimensional focus ensures that end-users are not just passive recipients but active participants in the development process, leading to upskilling rather than deskilling during deployment. Concrete case studies, including collaborations with multinational software companies like Autodesk and solutions for SMEs, will be presented to demonstrate the real-world applicability and benefits of this Hybrid Intelligence approach.
Explore our CHI-bot to learn more about our Center for Hybrid Intelligence (but don't trust it too much ;) )
Ask me (nearly) anything about my latest paper: A Hybrid Intelligence Approach to Training Generative Design Assistants: Partnership Between Human Experts and AI Enhanced Co-Creative Tools