FREE HANDS-ON LAB: Build a Serverless Web App for a Theme Park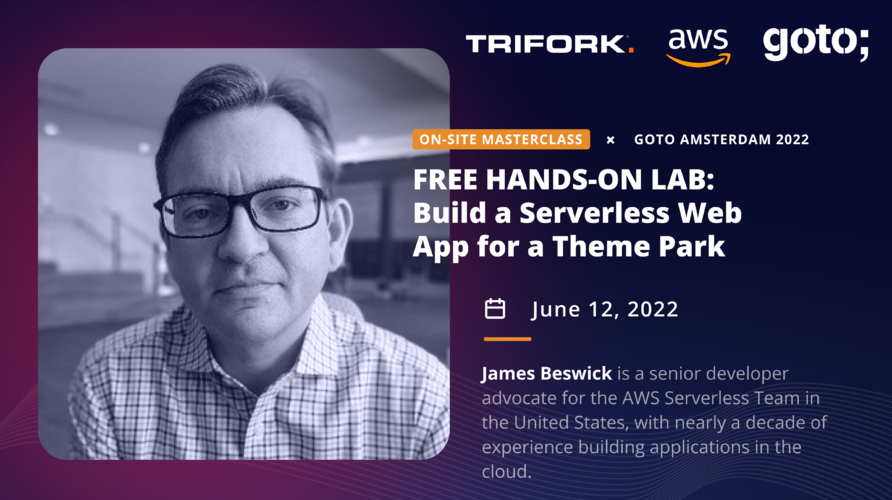 Date: June 12
Time: 9:00am - 12.00pm
Location: Beurs van Berlage - Damrak 243, 1012 ZJ Amsterdam

Join us for the onsite masterclass "FREE HANDS-ON LAB: Build a Serverless Web App for a Theme Park" with James Beswick. This session is a practical hands-on lab where you will get a chance to actively work with a specific technology.
Abstract
FREE HANDS-ON LAB: Build a Serverless Web App for a Theme Park

Learn how to build a complete serverless web application for a popular theme park called Innovator Island. The theme park is rolling out a web app that provides thousands of visitors with wait times, photo opportunities, notification alerts, and language translation for visitors who need it.
In this workshop, get hands-on experience building a scalable serverless application with a single-page application (SPA) front-end that delivers a feature-rich user experience.
When the hands-on lab is over, you are welcome to join the lunch provided to all workshop attendees.
This hands-on lab is free to attend and is made possible through our partnership with AWS.

About the speaker

James Beswick
James Beswick is a senior developer advocate for the AWS Serverless Team in the United States. James works with AWS's developer customers to understand how serverless technologies can drastically change the way they think about building and running applications at massive scale with minimal administration overhead. He has previously worked as a software developer and product manager at various enterprises and startups, and has nearly a decade of experience building applications in the cloud.

View all events
here