GOTO Night with Oleh Dokuka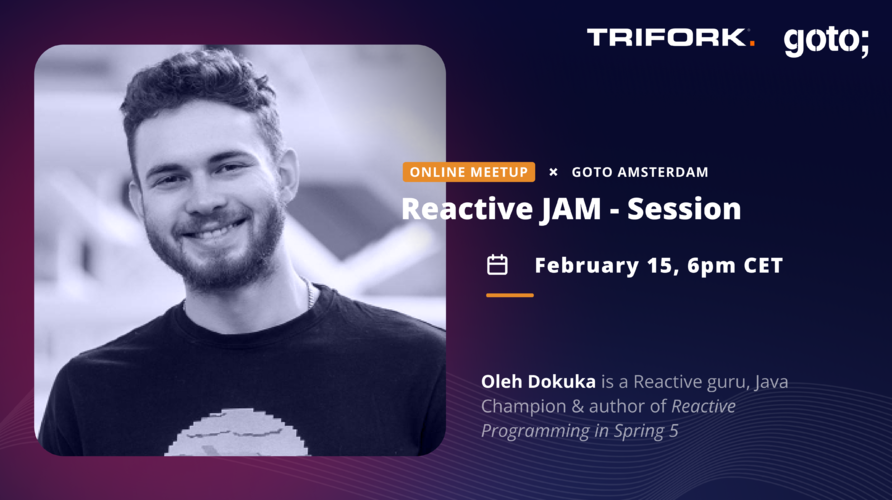 Join us for an exciting Online GOTO Night "Reactive JAM - Session" with Oleh Dokuka. This GOTO Night is focused on teaching you reactive programming concepts through real time sound signals processing using project reactor.


Date: February 15
Time: 6:00pm - 7:00pm CET
Location: Zoom

Agenda
6:00pm - Welcome to this GOTO Night with Oleh Dokuka
6:05pm - Oleh Dokuka will present his subject of the day
6:45pm - Live Q&A with Oleh Dokuka
6:55pm - Thank you for joining us for this GOTO Night

Abstract

Learning Functional and Reactive Programming is always a challenging task, but how about doing that in a fun way? Let's learn Reactive Programming with Project Reactor by doing music processing "on the fly".

During this talk we will learn basics of Reactive Programming with Project Reactor and will see how to apply this tool to process a stream of midi sound from the real digital piano.

About the speaker

Oleh Dokuka is an experienced software engineer, Java Champion, and one of the top contributors to Project Reactor and Spring Framework.
He knows the internals of both frameworks very well and advocates reactive programming with Project Reactor on a daily basis. Along with that, the author applies Spring Framework and Project Reactor in software development, so he knows how to build reactive systems using these technologies.
View all events
here